When it comes to planning a wedding, choosing the right invitation is an important decision. Most couples want their invitations to represent the wedding theme or to have some kind of personal meaning to the couple. These days, there are more styles of wedding invitations to choose from than ever, including those with a patriotic theme. Patriotic wedding invitations are a great choice for those who are planning a Fourth of July wedding date, for a military couple, or perhaps just for an all American couple who wants to express their patriotic pride. Etsy offers some interesting patriotic wedding invitations in both printable and standard formats. Some sellers even offer printed materials shipped to you without being assembled, offering customers a chance to save some money by assembling the items themselves. Here we look at some of the choices available from Etsy sellers.
Fourth of July Patriotic Wedding Invitations
This is a very unique invitation set that includes the main invitation, a Royal blue folder, and two additional cards to fit in the side pocket of the folder. (These could be RSVP cards and accommodations or reception information.) Red and white twine tie up the blue envelope packet along with a gold monogrammed seal. Choice of purchasing items and assembling them yourself for a lower cost, or choosing professionally assembled invitations. Price listed is for the proof, invitations are priced separately.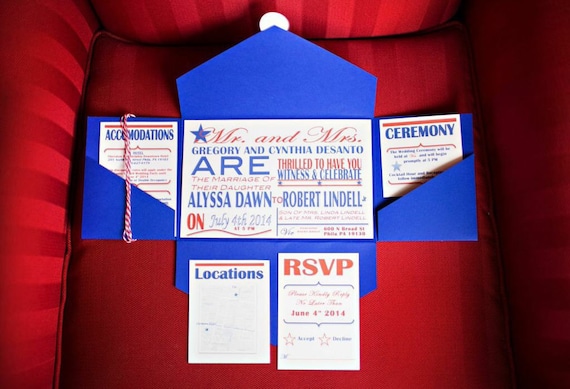 Fourth of July Patriotic Wedding Invitations

&
Printable Patriotic Nautical Wedding Invitation
This listing is for digital design files for a one sided 5 inch by 7 inc patriotic wedding invitation with a one sided 3.5 inch by 5 inch RSVP card. Print the invitations at home, or have them printed by a printing company, the choice is yours. Customers receive two print ready, high resolution (300 DPI) PDF files with crop marks and 1/8 inch bleeds for printing. Customize all information to personalize the card. Card design features a white background with blue rope at the top, red and blue lettering, and a blue nautical crab.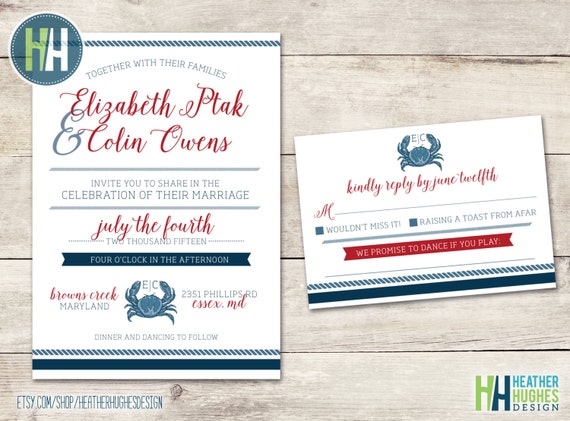 printable wedding invitation, patriotic nautical theme

&
Patriotic Military 4th of July Theme Invitations for Any Occasion
This is a listing for fifty customized one sided invitations that feature a white background and red and blue fireworks. Invitations are printed on one side only and feature flat sided faux pearls. blue ribbon, acrylic red and blue rhinestones, and acrylic rhinestone star. Invitations measure 5 inches by 7 inches and come with envelopes.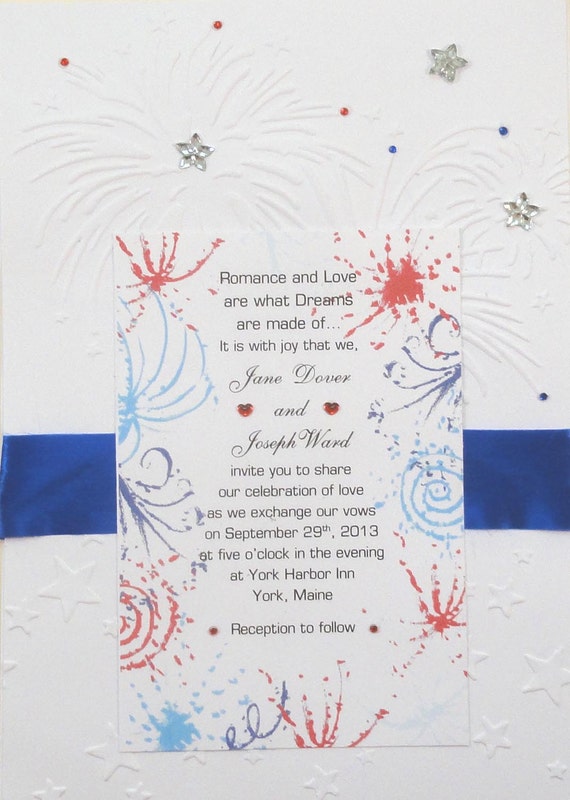 Patriotic Military 4th of July Theme Invitations

&
Rustic Red White Blue Wedding Invitation
The patriotic wedding invitations are available as either a digital printable file, or as printed invitations shipped to you. Designs features a tan burlap look background with a blue band across the center. Red and white and blue flowers adorn the upper left and lower right corners. Center if invitation is on a black chalkboard style background , with names and information printed in red/white/blue lettering. Invitation size is 5 inches by 7 inches in both printable and printed forms.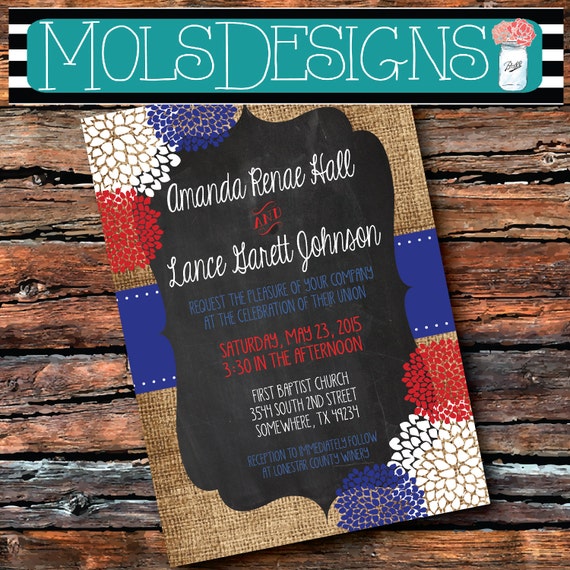 Red White Blue Floral Burlap Invitation

&
Vintage Wedding Invitations, Red &Blue
These flat paneled invitations are flat with multiple layers. Invitations are red and white with an attractive blue envelope. Choose from lovely embellishments such as a white satin bow tying the invitation to the RSVP card. Detailed information is provided in the listing for invitation styles, pocketfold, RSVP upgrade, paper selections, additional card inserts, envelope liners, and embellishments.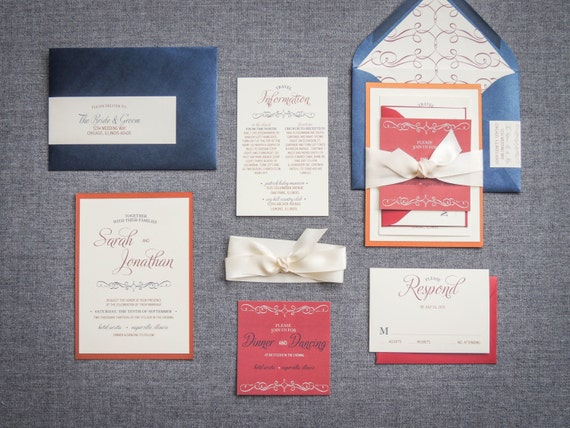 Vintage Wedding Invitations, Red and Blue Invitations

&
Custom Printed Blue Stars and Stripes Military, Retirement, Wedding or 4th of July Party Invitation
Perfect for a 4th of July or military wedding, this is a single layer 5 inch by 7 inch card with both front and back printed. Invitation is on 16pt matte finish card stock and has dark red, white, and blue colors, with stripes and colors continuing onto the back side. Design features red and white stripes running vertically down the front, with a dark blue square in the middle on which is printed the couples' names and wedding details. White envelopes are include with purchase.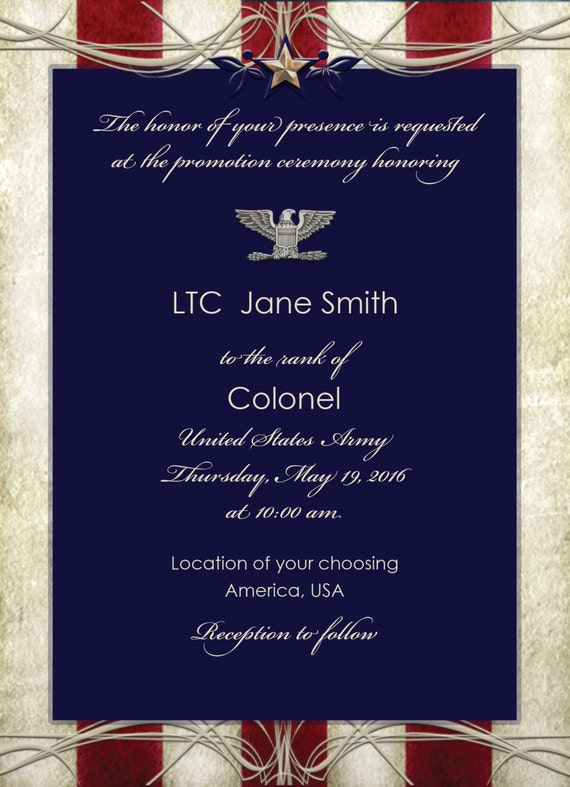 Custom Printed Blue Stars and Stripes Invitation

&
Printable 4th of July Wedding Invitation
This is a printable invitation set than includes digital files for a 4.5 inch by 5 inch invitation card, 3.25 inch by 6 inch accommodations and information enclosure, 3.75 inch by 6 inch reception and directions enclosure, and 3.5 inch by 6 inch RSVP postcard. Invitations feature a white background with blue and red lettering in various fonts, and a dark blue envelope with a pocket that holds the enclosures. Red and white ribbon adds a decorative touch. Seller also offers the option of choosing printed invitations delivered to your home (prices available).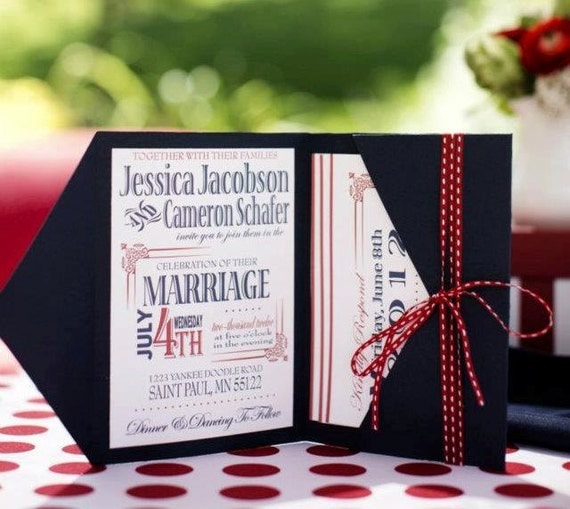 4th of July Wedding Invitation

&
Patriotic Red, White and Blue Wedding Invitation
This is an invitation suite that includes a 5 inch by 7 inch portable pocket made from card stock, a 5 inch by 7 inch wedding invitation, a 3.5 inch by 5 inch accommodations cards, a 3.5 inch by 5 inch RSVP card with envelope with printed address, and a 5 inch by 7 inch mailing envelope with the return address printed on it. Design features bold graphics printed on a matte, ivory colored card stock with navy blue card stock and a linen texture as a backing. All coordinating items within the invitation suite have matching graphics. All pieces fit within the taupe colored textured portable pocket and then fit into the envelope. Matte finishes are used on all card stock pieces. Makes the perfect invitation for any patriotic, Fourth of July, or military themed wedding.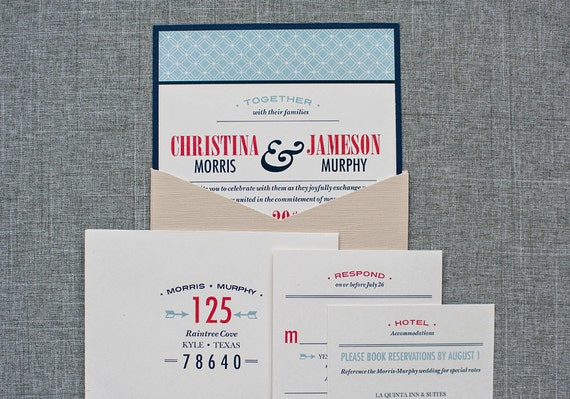 Red, White and Blue Wedding Invitiation

&
4th of July Concert Ticket Wedding Invitations
This is a super cute and very unique style in patriotic wedding invitations, as it is printed up like a concert ticket. Ticket reads :Happily Ever After" and "Mainstage The Vows", "Eat, Drink, and Be Married!", along with all of the tradition information found on a wedding invitation. Printed in the colors red, white, and blue for a patriotic look. Finished invitation size is 3.5 inches by 7 inches, with a 5 inch by 7 inch envelope. RSVP cars measures 4 inches by 6 inches with a matching white envelope. These cool invitations will definitely stand out from the ordinary. Additional matching items are also available, with full list of products included in the Etsy listing.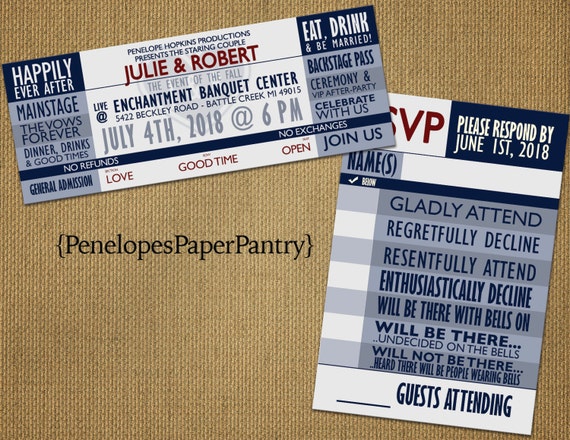 4th of July Concert Ticket Wedding Invitations

&
(Visited 1,549 times, 1 visits today)