If you are searching for the perfect engagement ring but would like something different than a modern gold ring, consider something a little out of the ordinary like an authentic antique 1920's platinum engagement ring. Antique platinum rings are beautiful , valuable, and are also a unique piece of history. Using an antique platinum ring for a present day engagement adds a touch of elegance and can also represent how your love will last and last, just like the ring has through all of the years.
Why Choose Platinum Over Gold?
Traditionally, gold is commonly the metal used in the making of engagement rings and wedding bands. However, recent trends have found ring buyers leaning more toward white gold or platinum rings, as opposed to the more traditional yellow gold. This may have something to do with the fact that yellow gold needs to mixed with other metals to obtain the shiny surface we all love, and over the years, the rhodium coating may wear off, making the ring appear dull. Platinum is naturally shinier than yellow gold and will remain shiny year after year without ever tarnishing.
While platinum costs more than gold, it is a worthwhile investment. This metal is typically 95% pure as opposed to gold, which is generally no more than 75% precious metal and typically a lesser percentage. Platinum is also a stronger precious metal than gold, which may be the reason why antique rings made from platinum dating back to the 1920's are still found to be in excellent shape. Platinum is many times referred to as the King of Metals and is considered to be rare, pure, and everlasting, all reasons to associate this metal with an engagement ring or wedding band.
Characteristics of Platinum
Platinum is a precious metal known for its lustrous sheen and silvery whitish color. It is very malleable, allowing it to be shaped without breaking and has a high melting point. This metal is not affected by acids and will not oxidize even as a result of high temperatures. It can be corroded if exposed to halogens, cyanides, caustic alkalis, and sulfur.When dissolved in a mixture of hydrochloric acid and nitric acid, it forms chloroplatinic acid.
&
Caring For Antique Platinum Rings
A platinum ring can be cleaned by placing it in a mixture of ammonia and water. Combine one part ammonia to two parts water in a glass jar and dip the ring into the mixture. Use a soft toothbrush to remove any debris that may be lodged in the setting. Rinse the ring in clean tap water when finished, then pat dry.
Certificate of Authenticity
When purchasing an antique 1920's engagement ring, you are likely to be paying a hefty sum on money for the item. This is why you should insist on a certificate of authenticity. These documents usually accompany an expensive, collectible item such as antique jewelry, to verify that it has been determined by a professional evaluation to be authentic. This assures you that you are not receiving a cheap imitation or something of lesser value than what you think you are buying.
A certificate of authenticity might include such information as a detailed and accurate product description, photograph of the jewelry piece, metal type, metal weight, gemstone type, and gemstone weight.
Safeguarding Your Investment
When making such a large purchase, it is a wise idea to make sure to protect your investment. After making sure you have purchased from a reputable dealer or seller, and getting the certificate of authenticity, now it is time to protect your purchase. If you carry homeowner's or renter's insurance, you may actually already have some coverage on your jewelry in the event that it becomes lost or stolen. After purchasing an antique ring, make sure to call your insurance agent to find out the details of your existing policy. You may wish to take out extra coverage if needed.
Where To Find Antique 1920's Platinum Engagement Rings
Searching for something like an antique platinum ring may not be easy to do locally, so you may need to use the Internet to help you find what you are looking for. An online site such as Etsy is a great place to start, giving you access to rings from all over the world. This will definitely increase the selection and price range. Most of the antique platinum rings offered are selling for prices of several thousand dollars, so most of the sellers are reputable Etsy sellers or reputable jewelry dealers. Make sure to ask any and all questions about the piece and be sure you are satisfied with the answers before buying a ring. Look for the seller's ratings and how many sales they have completed, and read all of the fine print. There should be something mentioned about including a certified independent appraisal or certificate of authenticity with the ring.
There are many beautiful engagement rings available with intricate designs. Some of the platinum rings also feature gorgeous stones such as pink sapphires, or canary yellow sapphires.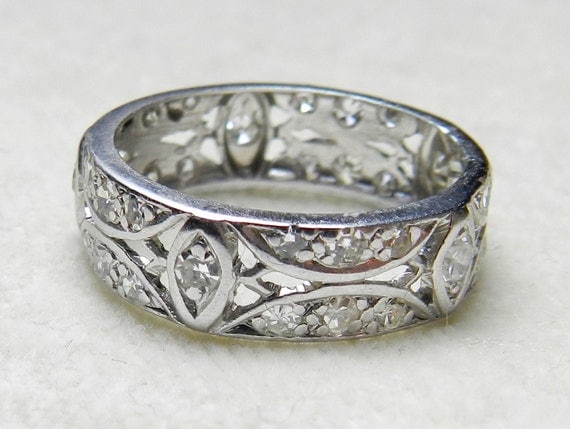 Wedding Ring Platinum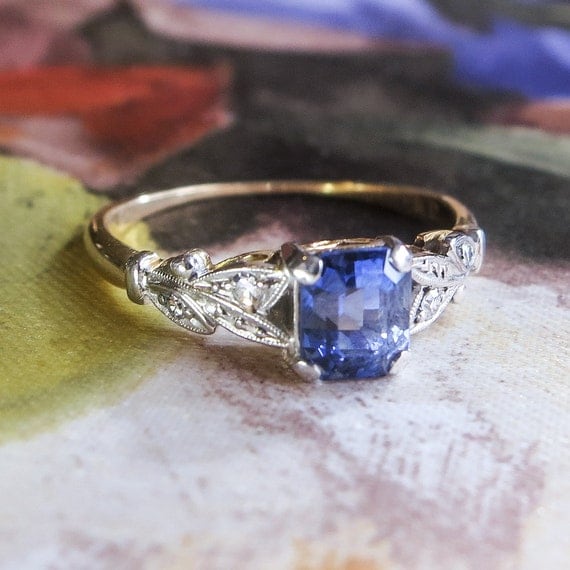 Edwardian 1920's 1.25ct t.w. Sapphire & Diamond Ring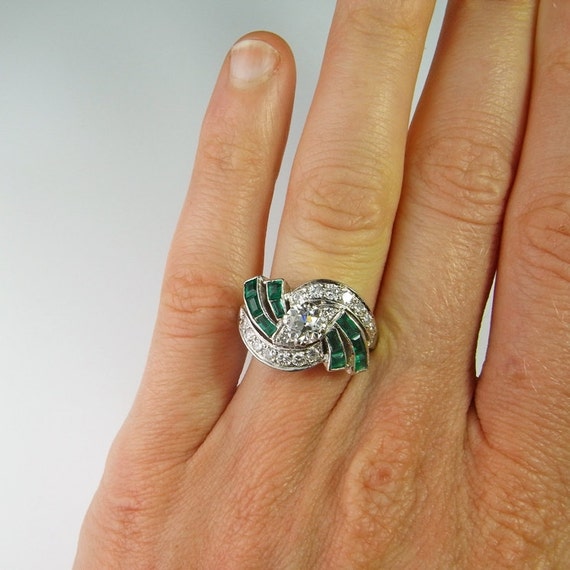 Art Deco Engagement Ring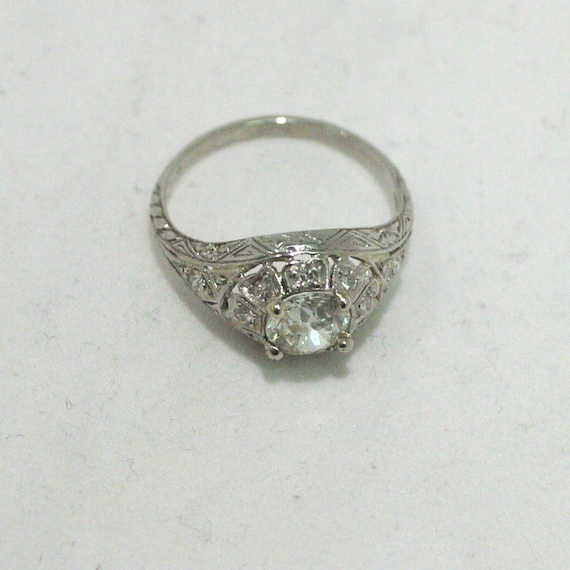 1920s Diamond Engagement Ring

&
Symbolizing Enduring Love
Some couples may prefer to have an antique platinum ring because of its beauty and symbolism. The fact that it always shines, remains durable, and is strong can all be symbolic of the upcoming marriage. It is also nice to imagine the love stories that have been associated with the ring throughout its history. It is also fun to have a ring that is unique and cannot be found or ordered at the local jeweler. This makes and antique engagement ring very special and different, as special and different as the engaged couple is and representative of how their relationship is unique and not like anyone else's. Choosing a 1920's antique platinum engagement ring can be a romantic gesture that is almost certain to win over the lovely lady who is receiving it.
(Visited 379 times, 1 visits today)