The color Indigo is a combination of a violet and deep blue and represents the traits of sincerity, trustworthiness, and dependability, all characteristics one would want in a life partner. With this and the fact that Indigo is considered to be a spiritual color, it's no wonder that many engaged couples are choosing Indigo as a color for wedding invitations.
One of the popular wedding invitations for 2016 is the Indigo leaves pattern. Indigo leaves wedding invitations are perfect for any time of the year because the color is not season specific and because foliage patterns tend to lend themselves to year round use. As an added bonus, when choosing the color Indigo you automatically have your "something blue" for the wedding, while the leaves pattern works especially nice for outdoor weddings. In addition to Indigo leaves wedding invitations, the Indigo Blue Leaves pattern collection includes matching RSVP cards, wedding programs, envelopes, and more.
Indigo Blue Leaves Pattern Wedding Invitation
This is a round wedding invitation featuring an Indigo blue leaves pattern that forms a frame around the invitation. A scalloped blue circle separates the frame from the wording inside the circular shape. Personalize and customize your text to include the names of the bride and groom as well the date and time and other details about the wedding.
This is a 5.25 inch by 5.25 inch flat card invitation on which texts or photos can be added to either or both sides. Choice of eight additional sizes and six shape styles available, as well as the option of standard or high definition printing. Select from twelve unique paper types. Standard white envelopes are included with order.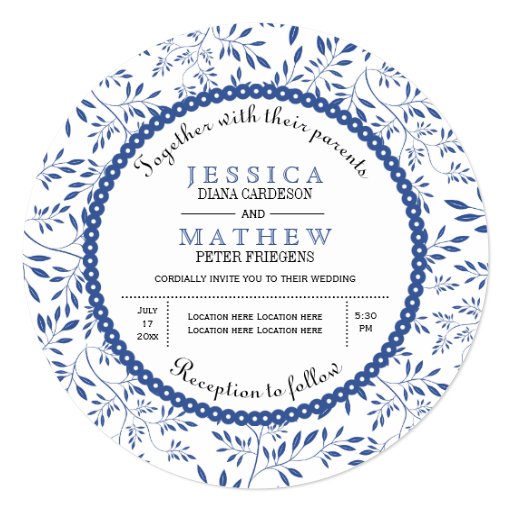 Indigo blue leaves pattern modern floral wedding invitation

Indigo Blue Leaves Pattern 5 X 7 Paper Invitation Card
This is a flat card invitation that measures 5 inches by 7 inches. May be printed in either portrait or landscape option. Fully customizable invitation allows you to choose from twelve paper types, eight additional sizes, and six shape styles. Blue Indigo leaves border this invitation, with a dark blue scalloped outline between frame and text. Order includes standard white envelopes, with premium envelope options available. Invitations feature high quality, full-color, full-bleed printing on both sides of paper.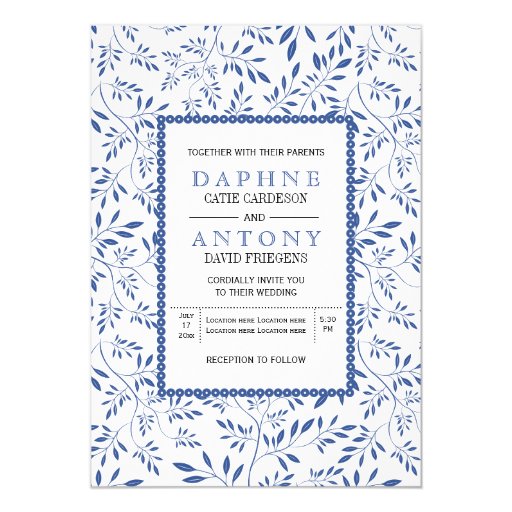 Modern indigo blue leaves pattern wedding 5×7 paper invitation card

Indigo Blue Leaves Pattern Wedding Envelopes
This is a dark indigo colored envelope with the initials of the couple printed on the back top outside flap. Inside the envelope is the white background with the blue indigo leaves pattern to match your invitations. Choose from basic, linen, felt, or recycled paper type options. Envelope measures 7 1/4 inches wide by 5 1/4 inches high. Adds a modern and stylish look for your wedding invitations.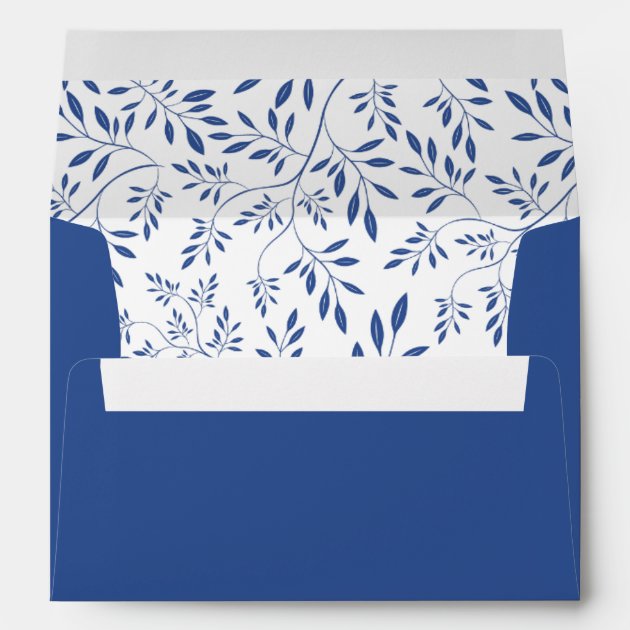 Indigo blue leaves pattern and initials wedding envelopes

Indigo Blue Leaves & Monogram Wedding Envelope
This is a square 5.5 inch by 5.5 inch invitation envelope that will fit the round blue leaves invitation perfectly. The outside of the envelope is white with the monogrammed initials of the couple on the back top flap. Inside, a dark indigo colored background features the leaves pattern in white, making it the reverse colors of the invitation for a great contrast. Paper type choices include felt, recycled, basic, and linen.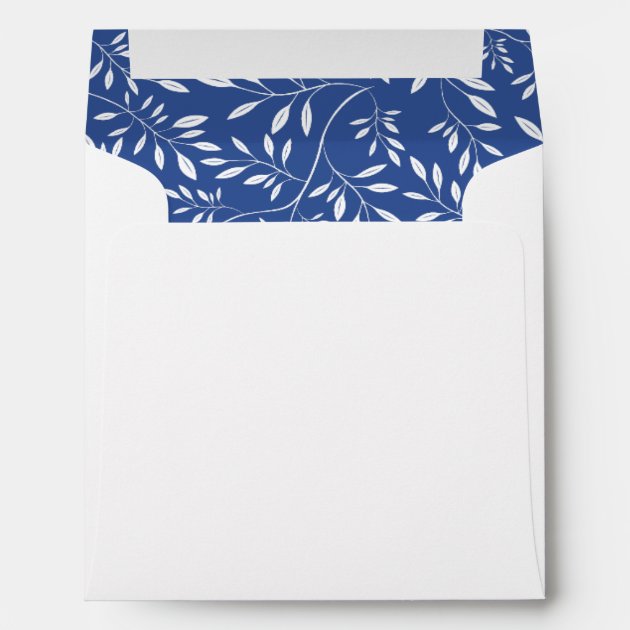 Indigo blue pattern of leaves and monogram wedding envelope

Indigo Blue Leaves RSVP 3.5 X 5 Card
Include these attractive RSVP cards with your wedding invitations to make responding for your guests easy. This 3.5 inch by 5 inch card features a white background with the blue indigo leaves pattern. Gives guests the option to "accept with pleasure", " decline with regret", and to write in the number of guests attending.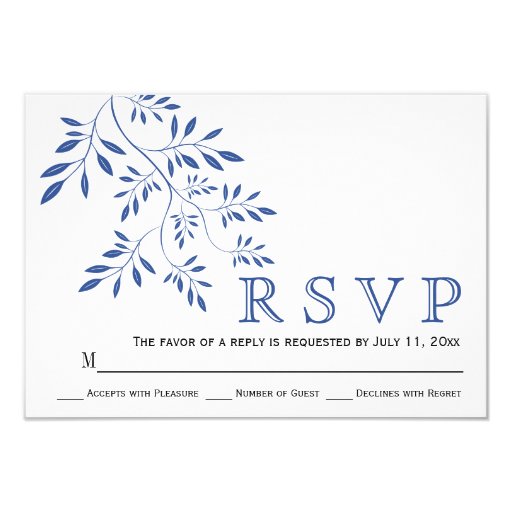 Indigo blue leaves contemporay floral wedding RSVP 3.5×5 Paper Invitation Card

Indigo Blue Folded Wedding Program 8.5″ by 11″
This is an 8.5 inch by 11 inch classic full-page style flyer with high quality, full-color, full-bleed printing. Available in two paper options and additional sizes. Customize both sides and then fold in half to create a beautiful wedding program and keepsake for your guests.
When folded, the front and back pages will be a white leaves pattern against a dark indigo border, with the inside pages being a white border with blue leaves print. Front features the names of the couple and the wedding date and location. Inside left page features all of the details of the actual wedding ceremony, while the inside right hand page features all of the information about the wedding party. Back page can hold a personal message from the newly wed couple to their family and friends. This program is fully customizable and can be made to include photos, text, and graphics of your choosing.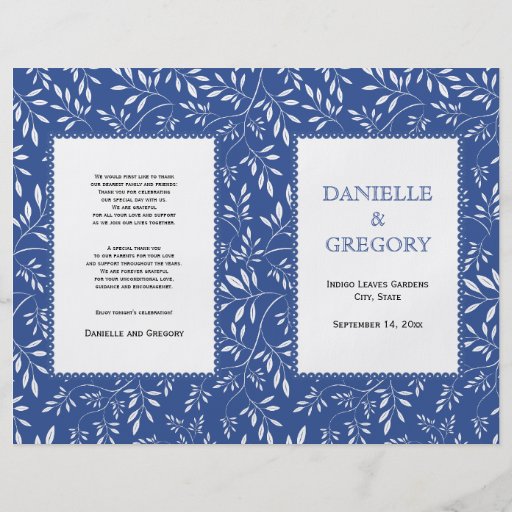 Leaves pattern, indigo blue folded wedding program 8.5″ x 11″ flyer

More Items from this Category
Gold foil floral monogram modern wedding envelopes

Indigo blue leaves pattern wedding directions card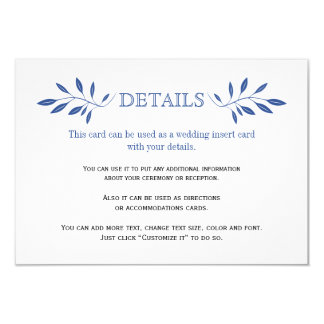 Indigo blue leaves pattern wedding insert card

Aqua blue gold foil white floral navy wedding RSVP 3.5×5 Paper Invitation Card

Indigo blue, white modern wedding accommodations 3.5×5 paper invitation card

Aqua gold foil blue wedding directions card

White, aqua gold foil flowers wedding table number table cards

White, aqua gold foil flowers wedding escort card table cards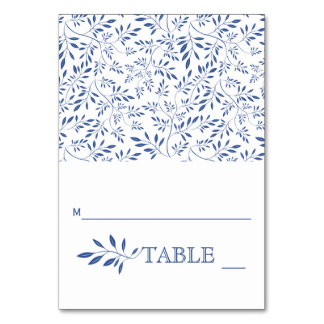 Indigo blue leaves wedding folded escort card table cards

Aqua floral navy blue wedding couples shower 5×7 paper invitation card

Navy blue floral pattern wedding bridal shower 5×7 paper invitation card

Aqua gold foil floral navy wedding insert card

White, gold foil, aqua flowers navy blue wedding standard cocktail napkin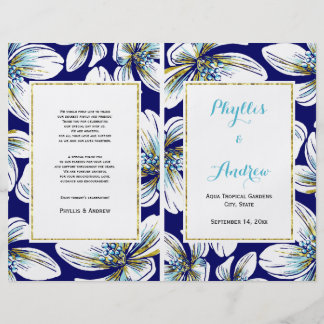 Tropical flowers folded wedding program 8.5

Floral pattern gold foil navy blue wedding 7 inch paper plate

Modern indigo blue leaves wedding bridal shower 5×7 paper invitation card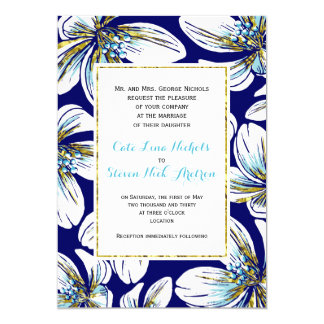 White, aqua, gold foil floral navy blue wedding 5×7 paper invitation card

Navy blue floral pattern wedding engagement party 5×7 paper invitation card

Aqua, gold foil floral navy blue wedding menu card rack cards

Tropical floral pattern gold foil navy blue weddin classic round sticker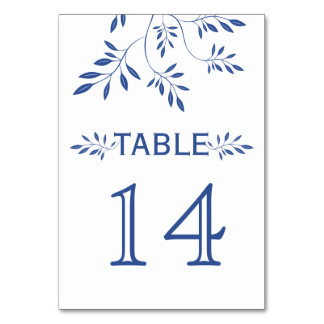 Indigo blue leaves wedding table number card table cards

Floral pattern navy blue wedding program rack card design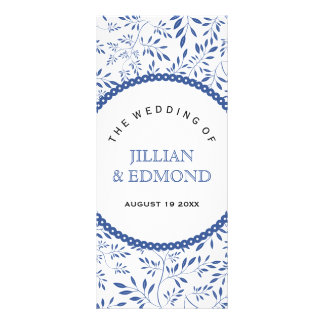 Indigo blue leaves pattern wedding program full color rack card

Indigo blue leaves pattern wedding menu card full color rack card Aqua, gold foil floral navy wedding Save the Date Postcard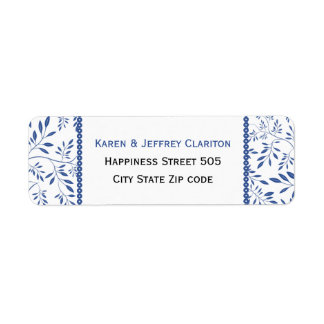 Indigo blue leaves pattern and frame wedding return address label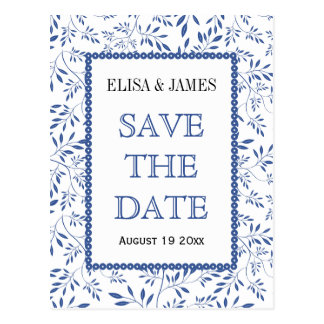 Indigo blue leaves pattern wedding Save the Date Postcard

(Visited 395 times, 1 visits today)